---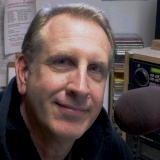 I was born & raised in Marysville, Washington (the other Marysville). I am the son of teacher parents so education was pretty important in my family. I graduated with a B.S. degree in Organizational & Mass Communications from Eastern Washington University (after a lengthy battle over a typing compentency test, which I eventually won). When I got to college I asked someone who had the best parties and they told me to try the Radio & Television Department. So I got a job on the campus station and it turns out the guy was right, I got hooked on radio and the rest is the proverbial history.
I'd like to know what you are up too. Send me an e-mail about your favorite things to do, fun websites you've found, funny stories or gossip you may have heard and things that you and your friends and co-workers are talking about (I can always use the material). Thanks for listening and thanks for stopping by my page. By the way if you have any thoughts about stuff you'd like to see here, send me an e-mail. - Manley
---
Manley's History lesson...
Wednesday September 28, 2016:
*Banned Websites Awareness Day: 28
*National Drink Beer Day: 28
*National Good Neighbor Day: 28
*International Right To Know Day: 28
*World Rabies Day: 28
*National Women's Health & Fitness Day: 28

In 1850, flogging was abolished as an official form of punishment in the U.S. Navy. Some day, I hope our company will adopt the no flogging policy.
In 1892, the first night-time football game was played. It was great: since there were no lights, you could just pretend it was your team that was ahead.
On this date in 1920, eight members of the Chicago White Sox were indicted for allegedly throwing the 1919 World Series against the Cincinnati Reds in what has become known as the "Black Sox" scandal. The most unbelievable part of this story is that they actually played the World Series in September?
THIS WEEK IS…
World Hearing Aid Awareness Week: 25-10/1
Ally Week: 26-30
Banned Books Week: 26-10/1
Health Information and Technology Week: 26-30
National Postdoc Appreciation Week: 26-30
National Fall Foliage Week: 27-10/3

---
Mike's Blog Du Jour
If you watched the Presidential Debates last night, I'm sure you have an opinion on what you saw with regards to how a particular candidate handled his or her opponent and the questions. I also have opinions about the debate, but unlike many on social media I am going to take the road less traveled and keep them to myself. It's also probably the safest route to take since no matter what I might have to say about this entire election (or anything for that matter), someone is bound to get offended and might stop listening which is completely counter productive to my job! It really is all about self preservation...and paying my rent! :)
---
Nearly Impossible Quiz:
Tuesday September 27, 2016
Q: It costs about 8 cents a square inch, and we buy a lot of it. What is it?
A: Pizza.
(Take this answer to the Mix VIP Club @kmxi.com and get your points)
---

Magnificent Seven, the update of the classic western staring Denzel Wshington, topped the box office with $35 this weekend.
---
In Case You Missed It...
DID YOU KNOW?... some random facts about people and stuff:
Even though they are very unsecure, the most popular computer password is the word "password," second are the numbers "1,2,3" and the third most popular password is the city you live in.
According to USA Today, 22% of us have lost a tooth on vacation.
TEXT CLUB CONTESTS, EVENTS