---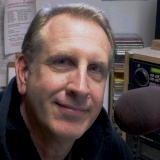 I was born & raised in Marysville, Washington (the other Marysville). I am the son of teacher parents so education was pretty important in my family. I graduated with a B.S. degree in Organizational & Mass Communications from Eastern Washington University (after a lengthy battle over a typing compentency test, which I eventually won). When I got to college I asked someone who had the best parties and they told me to try the Radio & Television Department. So I got a job on the campus station and it turns out the guy was right, I got hooked on radio and the rest is the proverbial history.
I'd like to know what you are up too. Send me an e-mail about your favorite things to do, fun websites you've found, funny stories or gossip you may have heard and things that you and your friends and co-workers are talking about (I can always use the material). Thanks for listening and thanks for stopping by my page. By the way if you have any thoughts about stuff you'd like to see here, send me an e-mail. - Manley
---
Manley's History lesson...
Tuesday August 23, 2016:
*National Ride the Wind Day
*National Sponge Cake Day
It was on this date in 1889 that the very first ship-to-shore wireless message was received. It was nice to finally get rid of all those wires in the ocean. It was a simple message that said, "I think I left the iron on. Can you check?"
On this date in 1968 that Ringo Starr temporarily quit the Beatles over a disagreement. Which, of course, begs the question: "I wonder why they settled?"
In 1986, Sylvia Brett, 80, at the time, became the world's oldest parachute jumper. She said she needed to thank God, her family and the failing plane engine.
THIS WEEK IS…

*Minority Enterprise Development Week: 18-24
*National Safe at Home Week: 22-25


---
Mike's Blog Du Jour
It's National Radio Day on Saturday so you might be wondering, "how does a radio DJ celebrate National Radio Day?" I celebrate pretty much the same way I celebrate every other day. I sit on the couch watching TV! If it's a particularly big celebration, I try to work in a nap!
---
Nearly Impossible Quiz:
Friday August 19, 2016
Q: 20% of us admit we've done this under the cover of darkness. What is it?
A: Go through our neighbor's garbage.
---

and other stuff I thought you'd like to know...
For August 19, 2016:
Real Housewife and ex con Teresa Giudice apparently owes the IRS $500,000. She is hoping to make $40 million next year, her lawyer is not as optimistic.
Adam West and Burt Ward, who played Batman and Robin on TV back in the 1960s, will provide the voices for a new animated movie on the dynamic duo this fall.
Other stuff:
In Dayton, Ohio, a man was arrested Tuesday for trying to have sex with a van. Yes, a vehicle. Just another reason we need a safe place for the Mix van!
---
In Case You Missed It...
DID YOU KNOW?... some random facts about people and stuff:
A study found that you spend 377 hours a year preparing meals by making breakfast, lunch, dinner and snacks.
20% of women in a recent survey said if they're being honest, they will admit, they have prayed before stepping on a scale.
According to a Good Housekeeping survey, 59% of people say they still have a VCR in their house.
Today's Lite Rock All Nite
12:00am - 5:30am
Today's Lite Rock All Nite
Make A Request
TEXT CLUB CONTESTS, EVENTS