---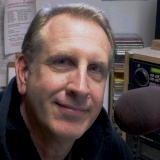 I was born & raised in Marysville, Washington (the other Marysville). I am the son of teacher parents so education was pretty important in my family. I graduated with a B.S. degree in Organizational & Mass Communications from Eastern Washington University (after a lengthy battle over a typing compentency test, which I eventually won). When I got to college I asked someone who had the best parties and they told me to try the Radio & Television Department. So I got a job on the campus station and it turns out the guy was right, I got hooked on radio and the rest is the proverbial history.
I'd like to know what you are up too. Send me an e-mail about your favorite things to do, fun websites you've found, funny stories or gossip you may have heard and things that you and your friends and co-workers are talking about (I can always use the material). Thanks for listening and thanks for stopping by my page. By the way if you have any thoughts about stuff you'd like to see here, send me an e-mail. - Manley
---
Manley's History lesson...
December 6, 2016:
December 6th is the 341st day of the year. There are 25 days remaining until the end of the year
There are 19 days remaining until Christmas

There are 25 days remaining until New Year's Eve

Today is: National Gazpacho Day, National Microwave Oven Day, National Pawnbrokers Day, Put on Your Own Shoes Day, Miners' Day and Earmuffs Day
--In 1877, that Thomas Edison made the very first sound recording. It was him, uttering those immortal words, "Why in the heck doesn't this stupid thing... Oh, there it is!"
--On this date in 1884, construction was completed on the Washington monument. Frankly, I still don't think it looks anything like him.
--In 1923, Calvin Coolidge became the first U.S. President to speak on the radio. His first words: "Am I the 5th caller?'
--On this date in 1945, the microwave oven was invented
--In 1973, House minority leader Gerald R. Ford became the first unelected vice-president of the United States, after the resignation of Spiro T. Agnew. He eventually became president, after the resignation of Richard Nixon. So, he became Vice-president and President without every running for the offices. Nice work if you can get it.
THIS WEEK IS…

Cookie Cutter Week: 1-7


---
Mike's Blog Du Jour
It's National Microwave Oven Day today so go ahead and celebrate with a nice burrito or some leftover Spaghetti. I will undoubtedly be celebrating by putting something in the microwave today, unfortunately it will probably be a fork!
---
Nearly Impossible Quiz:
December 6, 2016
Q: The average person does this 16 times a day. What is it?
A: They swear.
(Take this answer to the Mix VIP Club @kmxi.com and get your points)
---

December 6, 2016
Lady Gaga tells NBC that she suffers from post-traumatic stress disorder. ''I have a mental illness and I struggle with that mental illness every day. My own trauma in my own life has helped me to understand the trauma of others. I suffer from PTSD. I've never told anyone that before, so here we are.
Rolling Stone, citing Belfast Live, claims UFC star Conor McGregor may guest star on Game of Thrones. A source tells the sites: "It's been agreed that McGregor will appear in one of the remaining two seasons of Game of Thrones. He was headhunted as it were by HBO, as one of the Game of Thrones directors is a huge UFC fan. They believed that he would be a perfect fit for the show."
With the holidays coming, Jennifer Aniston tells Entertainment Weekly that her family used to make her belly dance at Christmas. "When I was a kid, they used to make me belly dance. On Christmas Eve. My dad's whole side of the family is Greek, so I would dress up as a little Greek girl and then on Christmas, after taking belly-dancing classes, I would do that. It had nothing to do with Christmas, even. It was just, 'Let's humiliate Jen on Christmas.'"
Yahoo claims a New Zealand man, named Max McCormack, says Prince is his father. A lawyer for Prince's estate has released a statement saying: "We must admit that we are somewhat skeptical of your claim, given our understanding that (Prince) was completing high school in Minnesota in 1976, as opposed to living in New Zealand for several months.'' Prince's estate has given McCormack until December 12th to take a DNA test
Radar Online claims Caitlyn Jenner wants to become a mother. A source tells the site: "Caitlyn is forging ahead with her dreams of motherhood, and she wants to go down the biological path instead of adoption. Right now she's all about finding a suitable surrogate to carry the baby. She loves the idea of living with the surrogate, so they can go through every precious moment of the pregnancy together.
Contact Music claims Tom Hardy is getting Leonardo DiCaprio's name tattooed on his body because he lost a bet. Both actors were nominated for an Academy Award. They agreed that the loser would have to get the winner's name inked on their body.
---
In Case You Missed It...
SUGAR AND SPICE
Are you sugar and spice and everything nice? You can tell a lot about your personality just from your favorite desert, says an expert. Here is what your selection of after-dinner treats says about you, according to psychologist Elayne Kahn, co-author of "1001 More Ways You Reveal Your Personality."
Cookies
An on-the-go type, you never waste time and believe that variety is the spice of life.
Cake
A people oriented person, you have deep-seated love for your family and friends. You enjoy celebrating and will cook up special occasions as an excuse to have a party.
Candy
Still a kid at heart, you are fun loving and enjoy practical jokes. You are agreeable and easy to get along with.
Ice cream
Creative and artistic, you also enjoy a good laugh. If you prefer chocolate, you are outgoing and have an inner confidence. If you prefer vanilla, you are likely to be reserved and conservative as well as tidy.
Pudding
You are calm and are prepared to roll with the punches. A believer in traditional values, you dislike making waves. You are also very versatile in tackling problems.
Fruit
A rugged individualist, you work hard for what you want, never taking the easy way out. You are health conscious and have strongly held beliefs.
Pie
You live for the moment and don't take anything for granted. Good conversation is important to you as is good food.
Today's Lite Rock All Nite
12:00am - 5:30am
Today's Lite Rock All Nite
Make A Request