---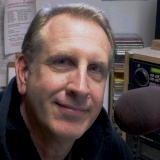 I was born & raised in Marysville, Washington (the other Marysville). I am the son of teacher parents so education was pretty important in my family. I graduated with a B.S. degree in Organizational & Mass Communications from Eastern Washington University (after a lengthy battle over a typing compentency test, which I eventually won). When I got to college I asked someone who had the best parties and they told me to try the Radio & Television Department. So I got a job on the campus station and it turns out the guy was right, I got hooked on radio and the rest is the proverbial history.
I'd like to know what you are up too. Send me an e-mail about your favorite things to do, fun websites you've found, funny stories or gossip you may have heard and things that you and your friends and co-workers are talking about (I can always use the material). Thanks for listening and thanks for stopping by my page. By the way if you have any thoughts about stuff you'd like to see here, send me an e-mail. - Manley
---
Manley's History lesson...
Wednesday November 25, 2015:
*International Day For the Elimination of Violence Against Women Day: 25
*International Hat Day: 25
*Blase´Day: 25
*Shopping Reminder Day: 25
*Tie One On Day: 25 (Day Before Thanksgiving)
THIS WEEK IS…
National Farm-City Week: 20-26
GERD Awareness Week: 22-28
National Family Week: 22-28
National Game & Puzzle Week: 22-28
Better Conversation Week: 23-29
Church/State Separation Week: 24-30
National Deal Week: 25-12/2
---
Mike's Blog Du Jour
Because there seems to be so much interpretation involved in what referees consider to be a catch, the NFL says they going to take another look at what defines a "catch.". I expect the new rule will say that a player has to take six steps in bounds, hold the ball until he is takled 3 times, hand the ball to the ref, shake hands with his coach and return to the huddle. At which point the whole process will have to be reviewed to make sure that all steps have been completed.
---
Nearly Impossible Quiz:
Wednesday November 25, 2015
Q: The largest ever one of these weighed in at 2,020 pounds. What is it?
A: Pumpkin pie
---

and other stuff I thought you'd like to know...
Wednesday November 25, 2015:
After two years on 'Fox and Friends', Elisabeth Hasselbeck is calling it quits.

Sofia Vergara's 22-year-old son brought (a picture of) Taylor Swift as his date to his mom's wedding last Sunday.

Benedict Cumberbatch is back with "Sherlock: The Abominable Bride" on Friday, January 1st on PBS at 9pm.

A new study says that being lonely will shorten a person's life... as the loneliness lowers your immune system.

This year marks the 60th anniversary of Green Bean Casserole.

The Boy Scouts of America are now under pressure to allow girls to join.

It's said that Jamie Foxx and Katie Holmes have pretty much been a secret item since 2013.
---
In Case You Missed It...
USELESS THANKSGIVING TRIVIA
When the Pilgrims were sailing to America in 1620, what game did they play? (Darts)

Ben Franklin tried to get the turkey, named the national bird.

Neil Armstrong's first meal on the moon was turkey.

A turkey has about 3,500 feathers.

What was one of the main reasons that the Pilgrims stopped at Plymouth Rock? (Because they ran out of beer)

At the very first Pilgrim Thanksgiving in 1621 they feasted on deer meat, turkey and what else? Popcorn brought by the Indians

Running speed of wild turkeys? (25 mph)

Turkey meat gobbled up last year by the average American? (18.1 pounds)

The first settlers weren't called Pilgrims. Instead, they referred to themselves as Saints.

They didn't wear big hats with buckles either! That was invented by artists.

The first Thanksgiving was no solemn religious occasion. It was instead a 3-day party that included drinking, gambling and target shooting.

There's no evidence they celebrated Thanksgiving the following year.
More Music Weekend
12:00am - 10:00am
More Music Weekend
Make A Request