---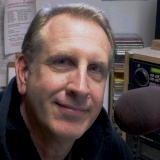 I was born & raised in Marysville, Washington (the other Marysville). I am the son of teacher parents so education was pretty important in my family. I graduated with a B.S. degree in Organizational & Mass Communications from Eastern Washington University (after a lengthy battle over a typing compentency test, which I eventually won). When I got to college I asked someone who had the best parties and they told me to try the Radio & Television Department. So I got a job on the campus station and it turns out the guy was right, I got hooked on radio and the rest is the proverbial history.
I'd like to know what you are up too. Send me an e-mail about your favorite things to do, fun websites you've found, funny stories or gossip you may have heard and things that you and your friends and co-workers are talking about (I can always use the material). Thanks for listening and thanks for stopping by my page. By the way if you have any thoughts about stuff you'd like to see here, send me an e-mail. - Manley
---
Manley's History lesson...
Friday October 31, 2014
*Beggars' Night: 31
*Books For Treats Day: 31
*Day of the Seven Billion: 31
*Frankenstein Friday: 31
*Girl Scout Founder's Day: 31
*Halloween or All Hallows Eve: 31
*International Bandanna Day: 31
*National Breadstix (Bread Sticks) Day:
*National Caramel Apple Day: 31
*National Knock-Knock Jokes Day: 31
*National Magic Day: 31
*National UNICEF Day: 31
This Week Is...
*Prescription Errors Education & Awareness Week: 24-31
*World Origami Days: 24-11/11
*International Magic Week: 25-31
Asexuality Week: 26-11/1
Give Wildlife a Brake! Week: 26-11/1
Kids Care Week: 26-11/1 (Always Includes10/27 Make A Difference Day)
National Infertility Awareness Week: 27-11/2
---
Mike's Blog De Jour
---
Nearly Impossible Quiz:
Friday October 31, 2014
Q: 36% of people will not do this when they are alone. What is it?
A: Watch a scary movie.
---

and other stuff I thought you'd like to know...
Wednesday October 29, 2014
---
In Case You Missed It...
Count Your Buttons Day -- Here are a few sayings that should be on buttons:
Make yourself at home! Clean my kitchen.

Who are these kids and why are they calling me mom?

Don't bother me. I'm living happily ever after.

I started out with nothing and still have most of it left.

I pretend to work. They pretend to pay me.

If I throw a stick, will you leave?

Therapy is expensive, poppin' bubble wrap is cheap! You choose.

If I want to hear the pitter patter of little feet, I'll put shoes on my cat.

Does your train of thought have a caboose?

Errors have been made. Others will be blamed.

I'm not crazy, I've just been in a very bad mood for 30 years.

Better living through denial.

Whatever kind of look you were going for, you missed.

How do I set an iPhone to stun?

I'm not tense, just terribly, terribly alert.