---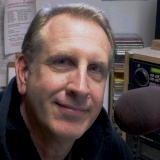 I was born & raised in Marysville, Washington (the other Marysville). I am the son of teacher parents so education was pretty important in my family. I graduated with a B.S. degree in Organizational & Mass Communications from Eastern Washington University (after a lengthy battle over a typing compentency test, which I eventually won). When I got to college I asked someone who had the best parties and they told me to try the Radio & Television Department. So I got a job on the campus station and it turns out the guy was right, I got hooked on radio and the rest is the proverbial history.
I'd like to know what you are up too. Send me an e-mail about your favorite things to do, fun websites you've found, funny stories or gossip you may have heard and things that you and your friends and co-workers are talking about (I can always use the material). Thanks for listening and thanks for stopping by my page. By the way if you have any thoughts about stuff you'd like to see here, send me an e-mail. - Manley
---
Manley's History lesson...
Friday November 28, 2014
Black Friday: 28
Fur Free Friday: 28
Buy Nothing Day: 28 (First Shopping Day After Thanksgiving)
Flossing Day: 28 (Always Day After Thanksgiving)
Maize Day: 28 (Day After Thanksgiving)
National Day of Listening: 28 (Day after Thanksgiving)
National Native American Heritage Day: 28 (Always Day After Thanksgiving)
Sinkie Day: 28
(when you eat all the Thanksgiving leftovers over the sink.)
You're Welcomegiving Day: 28
This Week Is...
*GERD Awareness Week: 23-29 (Week of Thanksgiving)
*National Bible Week: 23-30 (Sunday before Thanksgiving)
*National Game & Puzzle Week: 23-29 (Sunday-Saturday Thanksgiving Week)
*Better Conversation Week: 24-30 (Always Thanksgiving Week)
*Church/State Separation Week: 24-30
*National Family Week: 24-30

---
Mike's Blog De Jour
It's GERD Awareness Week this week and even though it sounds kind of funny it's a serious thing. GERD or gastroesophageal reflux disease is a chronic condition where stomach acid backs up into the esophagus and irritates the lining of the esophagus. You may have experienced occasional heartburn or acid reflux which can be often be controlled with proper diet or over the counter remedies. But, over time and if it occurs often enough, this condition can become quite serious and can potentially lead to other problems like increased risk of esophageal cancer. If you are having trouble with heartburn it's always a good idea to check with your doctor about your symptoms. I am not a doctor and I am not attempting to give any medical advice, I'm simply someone who used to suffer with chronic heartburn and have learned alot about the condition over the years. For me losing weight and eating healthier seemed to be what really helped me to be free from heartburn symptoms for more than a year.
---
Nearly Impossible Quiz:
Tuesday November 26, 2014
Q: Guess how far you have to run to burn off a 316-calorie slice of pumpkin pie?
A: 2.9 miles
---

and other stuff I thought you'd like to know...
Monday November 24, 2014
Queen Latifah's show has been cancelled. The show will continue to air originals though the end of March.

You'll have to wait until 2016 for the next full season of "Sherlock," but we have been given a hint. A co-creator we should brace ourselves "for tragedy."

Danica McKellar and her fiance exchanged vows during a sunrise ceremony in Hawaii last weekend, in front of 25 family members.

A half hour after President Obama delivered his immigration speech last Thursday, a woman was arrested out in front of the White House for carrying a weapon.

Bono's injuries from that bike accident a while back were worse than originally thought. When he went in for several surgeries this week, doctors confirmed he had broken his arm in six spots, fractured his eye socket and also his shoulder blade.

A BYU student has been arrested for hacking into the computer system and changing his F grades to A's.

(apparently one of his F's must have been in computer science or maybe he would have known how not to get caught)
---
In Case You Missed It...
TOP FIVE THINGS RESULTING FROM THE BUFFALO SNOW STORMS
The invention of a new prank -- The Dutch Igloo

TV weather guy hired a body guard

Free snow cones at every meal!

Vacationing polar bears left for Florida, saying it's too cold

The neighbor kid you always hire to shovel the driveway got an unlisted number.