---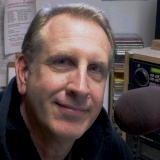 I was born & raised in Marysville, Washington (the other Marysville). I am the son of teacher parents so education was pretty important in my family. I graduated with a B.S. degree in Organizational & Mass Communications from Eastern Washington University (after a lengthy battle over a typing compentency test, which I eventually won). When I got to college I asked someone who had the best parties and they told me to try the Radio & Television Department. So I got a job on the campus station and it turns out the guy was right, I got hooked on radio and the rest is the proverbial history.
I'd like to know what you are up too. Send me an e-mail about your favorite things to do, fun websites you've found, funny stories or gossip you may have heard and things that you and your friends and co-workers are talking about (I can always use the material). Thanks for listening and thanks for stopping by my page. By the way if you have any thoughts about stuff you'd like to see here, send me an e-mail. - Manley
---
Manley's History lesson...
Friday February 17, 2016:
February 17th is the 48th day of the year. There are 317 days remaining until the end of the year
There are 11 days remaining until Mardi Gras

There are 28 days remaining until St Patty's Day

Today is
National Cabbage Day, National PTA Founders' Day, Random Acts of Kindness Day and World Human Spirit Day, Champion Crab Races Day and My Way Day
THIS WEEK IS…

Celebration of Love Week: 12-18
International Friendship Week: 12-17
Jell-O Week: 12-18
National Secondhand Wardrobe Week: 12-18
Random Acts of Kindness Week: 12-18
International Flirting Week: 12-18
National Green Week: 13-19
Love a Mensch Week: 13-19
National Nestbox Week: 14-21
NCCDP Alzheimer's & Dementia Staff Education Week: 14-21
World AG Expo: 14-16

February Is ..
American Heart Month
Black History Month
Canned Food Month
Creative Romance Month
Great American Pie Month
National Bake for Family Fun Month
National Bird Feeding Month
National Cherry Month
National Children's Dental Health Month
National Grapefruit Month
National Heart Month
National Hot Breakfast Month
National Library Lover's Month
National Macadamia Nut Month
National Snack Food Month
National Weddings Month
National Embroidery Month
---
Mike's Blog Du Jour
It's National Random Acts of Kindness Day so I'm going to have to think of something I can do to be kind to someone. The problem is, if I think about doing an act of kindness it really takes away from the randomness of the act itself. But then again if I don't put some thought into the random act of kindness, I might just do something random that turns out to be a disaster and ends up being not kind at all. You see the predicament I am faced with if I fail to carefully plan out this random act of kindness.
---
Nearly Impossible Quiz:
Friday February 17, 2016
Q: If you didn't do this last year, you're not alone; over 70 million people didn't do it either. What is it?
A: Read a book.
(Take this answer to the Mix VIP Club @kmxi.com and get your points)
---

February 17, 2016
OK! magazine claims Jessica Biel may not want another child as soon as Justin Timberlake does. A source tells the mag: "Jess is thrilled that Justin's riding a career high, but Jess is ready for her turn now. She knows that in show business, the older she gets, the harder it'll be to land roles, so it's now or never. She does want a second child, but not for another few years."
Hollywoodlife.com claims Calista Flockhart wants Harrison Ford to stop flying following his near-miss plane crash earlier this week. A source tells the site: "She's been freaking out since his latest flying debacle. She gets worried sick every time he pilots a plane and he flies all the time. Calista has been begging her hubby to stay out of the cockpit and retire from flying.
Gossip Cop, citing TMZ, claims the LAPD is investigating Justin Bieber for allegedly head-butting a man at a pre-Grammy party last weekend. Bieber was wrestling with a friend when he noticed a restaurant staffer recording him. Bieber allegedly head-butted the man after he refused to stop filming him. Bieber left by the time cops arrived.
---
In Case You Missed It...
LEFTOVER NEWS: 2-16-17
According to the American Road and Transportation Builders Association, there are almost 56,000 unsafe bridges in the U.S.
U.S. Border Patrol agents discovered a giant catapult at the U.S./Mexico border that was used to throw bundles of marijuana from Mexico, over a fence, into Arizona.