---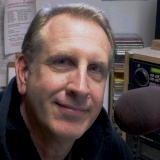 I was born & raised in Marysville, Washington (the other Marysville). I am the son of teacher parents so education was pretty important in my family. I graduated with a B.S. degree in Organizational & Mass Communications from Eastern Washington University (after a lengthy battle over a typing compentency test, which I eventually won). When I got to college I asked someone who had the best parties and they told me to try the Radio & Television Department. So I got a job on the campus station and it turns out the guy was right, I got hooked on radio and the rest is the proverbial history.
I'd like to know what you are up too. Send me an e-mail about your favorite things to do, fun websites you've found, funny stories or gossip you may have heard and things that you and your friends and co-workers are talking about (I can always use the material). Thanks for listening and thanks for stopping by my page. By the way if you have any thoughts about stuff you'd like to see here, send me an e-mail. - Manley
---
Manley's History lesson...
Friday March 27, 2015
*Celebrate Exchange Day: 27
*Quirky Country Music Song Titles Day: 27
*Viagra Day: 27
Saturday
*Be Mad Day: 28 (4th Saturday)
*USA Memory Championship: 28
Sunday
*National Mom & Pop Business Owner's Day: 29
THIS WEEK IS…
*Week of Solidarity with People's Struggling Against Racism & Discrimination: 21-27
Consider Christianity Week: 22-28
Tsunami Awareness Week: 22-28
Pediatric Nurse Practioner Week: 22-28
National Cleaning Week: 22-28
Root Canal Awareness Week: 22-28
National Youth Violence Prevention Week: 23-27
Meat Free Week: 23-29
National LGBT Health Awareness Week: 23-29
---
---
Nearly Impossible Quiz:
Friday March 27, 2015
Q: This item worth $28,000 was stolen this month from an Amsterdam Cheese Museum. What is it?
A: A diamond studded cheese slicer
---

and other stuff I thought you'd like to know...
Friday March 267, 2015
Producers say, when the DVD comes out of "50 Shades of Grey," you'll get to see an "alternate ending" they were thinking about using.

With a new boyfriend and life going well, Britney Spears says she's "the happiest I've ever been" and she would "love to get married again."

Duck Dynasty's Willie Robertson officiated Jason Aldean's wedding last weekend.

Yes, Kevin Hart once auditioned for "Saturday Night Live"... and didn't make the cut.

A Picasso oil painting is going to be auctioned off soon at Christie's for something on the other side of $140 million. Should be a record.

Students at a California high school came back from a weekend to find their chemistry teacher had transitioned from a man to a woman.

Google fiber, an online connection that is 100 times faster than normal Internet speeds is headed to Salt Lake City.
---
In Case You Missed It...
TOP FIVE FUN THINGS TO DO WITH THE FAKE GRASS IN YOUR EASTER BASKET
Take it to Washington or Colorado and see how much you can get for it

Stash it for next year's St. Patrick's Day beard

Use it to patch your front lawn

Throw a short parade and use it as confetti

Sell it to Donald Trump as a spare
Today's Lite Rock All Nite
12:00am - 5:30am
Today's Lite Rock All Nite
Make A Request