---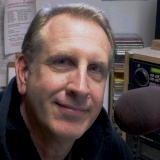 I was born & raised in Marysville, Washington (the other Marysville). I am the son of teacher parents so education was pretty important in my family. I graduated with a B.S. degree in Organizational & Mass Communications from Eastern Washington University (after a lengthy battle over a typing compentency test, which I eventually won). When I got to college I asked someone who had the best parties and they told me to try the Radio & Television Department. So I got a job on the campus station and it turns out the guy was right, I got hooked on radio and the rest is the proverbial history.
I'd like to know what you are up too. Send me an e-mail about your favorite things to do, fun websites you've found, funny stories or gossip you may have heard and things that you and your friends and co-workers are talking about (I can always use the material). Thanks for listening and thanks for stopping by my page. By the way if you have any thoughts about stuff you'd like to see here, send me an e-mail. - Manley
---
Manley's History lesson...
Thursday November 20, 2014
*Globally Organized Hug A Runner Day aka G.O.H.A.R.D.: 20
*Great American Smokeout: 20
*Name Your PC Day: 20
*National Peanut Butter Fudge Day: 20
*Universal Children's Day: 20
*Use Less Stuff Day: 20
*Absurdity Day
In 1971, hunting from airplanes was made illegal. (But apparently you can still fish from them.)
This Week Is...
National Hunger & Homeless Awareness Week: 15-23
International Fraud Awareness Week: 16-22
American Education Week: 17-21
National Book Awards Week: 17-21
National Global Entrepreneurship Week: 17-23
---
Mike's Blog De Jour
Along with the Great American Smokeout, today is Name your PC Day. I call my PC names everyday but it would be very "un" PC to say what they are here. :)
---
Nearly Impossible Quiz:
Thursday November 20, 2014
Q: Approximately one in five men (20%) refer to their wife by what nickname when talking with other guys?
A: The boss.
---

and other stuff I thought you'd like to know...
Thursday November 20, 2014
We're already on record for the coldest November since 1976 and over the last week, 1360 low temperature records in the U.S. have been broken.

Natalie Morales and Willie Geist have been dropped from the "Today" show.

Well, NBC was talking with Bill Cosby about a new TV show featuring him. That's been scrapped.

The rumors of Kaley Cuoco and Ryan Sweeting breaking up continue... but she insists there's no trouble in paradise.

Jennifer Lawrence, famous for eating garlic before her kissing scenes in the Hunger Game movies, says she'd brush her teeth in order to kiss Bradley Cooper.

Stephen Colbert is set to host the Kennedy Center Honors on CBS.

Putin and the Russian government are on a gold buying spree, whatever they're up to.

Tracy Morgan is still recovering from that auto accident earlier this year and is said to have suffered a severe brain injury.
---
In Case You Missed It...
The Worst Possible News: We're Running Out of Chocolate!
Got bad news chocolate lovers: chocolate production is failing to keep up with worldwide consumption and could fall behind by 2 million metric tons annually by 2030! In other words, we're running out of chocolate! Dry weather and fungal disease are partly to blame, but there's another cause: Demand for chocolate is just too great -- particularly in emerging Asian markets. Our Chinese friends are eating twice as much chocolate as 10 years ago, and dark chocolate, which uses much more cocoa than regular chocolate bars, is growing more popular. This has forced up cocoa prices by more than 60% over the past two years. It has also inspired not necessarily desirable innovation, like trees that can produce up to 700% more cocoa than their traditional counterparts. But this breed of tree -- which is also resistant to a devastating fungus called Witches' Broom -- comes with far less flavor.