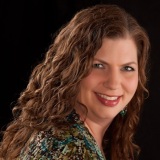 Robin Scott
I'm a singer that was lucky enough to get to do something with music for my career! I love music and have all my life,
I started singing when I was 5. I got into radio while a junior in high school (following in my dad's footsteps).
I am happily married with 2 great kids and a fish. I love to cook, make beaded jewelry, and work on music projects with my husband.
I'll be posting interesting things that I run across here. I love good celebrity gossip, health information, and useful tips and tricks.
If it makes ME go "hmmmm," I figure you might, too!
Email: rscott@dcbchico.com