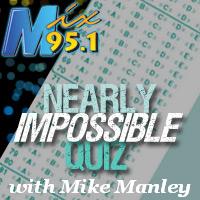 Click above to take the quiz and
score points in the VIP Club.
---

Win Christmas Cash!
Text the word "EARL" to 88474 for your chance to win $1,000 in Christmas Cash from Earl's Plumbing, "where you get your plumbing fixed right, right now" and Mix 95-1!
---

Wrap Up Your Christmas
Mix 95-1 along with Carl's Jr. on East Ave. & Esplanade are wrapping up your Christmas with more than $8,000 in presents from our very generous "gift givers." Listen to the Mix or go to KMXI.COM for more info on where you can enter to win!
---

Hassle Free Holiday

Listen for your chance to win The Mix "Hassle Free Holiday." Including a Christmas tree from Home Depot, a complete family style holiday dinner from Raleys and a new dining room set from America's Discount Furniture. Coming soon from Mix 95-1.
---

Ticket Tuesdays
Listen to Mix 95-1 on Tuesdays for your chance to win tickets to some great shows! Manley will open the Box Office on Tuesday mornings and you could win tickets to concerts and events all over the Northstate.

---

Gas n' Go Getaway
Your chance to win a getaway to a great destination, plus get $50 in free gas from Chico Shell on Forest Ave. next to Walmart. Listen for details on Mix 95-1.
---
Deer Creek Broadcasting Contesting Rules, Eligibility & Exclusions

Must be at least 18 years of age (unless otherwise specified).

Employees and their immediate family members of Deer Creek Broadcasting and participating sponsors are not eligible.

One prize per person per household only.

All prize certificates must be claimed in person at the KMXI studios during regular business hours. An appointment may be necessary.

Winners may be required to provide a legal driver's license or California state issued identification card and offer written signature as evidence prize has been claimed.

All prizes must be claimed within 30 days of conclusion of contest or prize will be forfeited.

All winners give KMXI permission to air his/her voice response on-air and shall allow his/her likeness to be published for marketing purposes.

Winners are responsible for all federal, state and local taxes where applicable.

Winner shall hold harmless KMXI and Deer Creek Broadcasting and it's employees, agents and advertisers, including all contest sponsors, from any damages suffered while participating in this contest by the official winners.

Some prizes are non-transferable and may only be used by the official winners.

KMXI reserves the right to substitute prizes with other similar prizes of approximate same value.

All contest decisions are made by staff and management of KMXI and are final.

Should a selected winner not meet eligibility criteria or not be able to use the prize during the designated time period, that person shall automatically forfeit that prize and an alternate winner will be selected at random.