---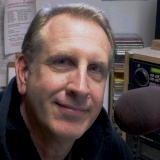 I was born & raised in Marysville, Washington (the other Marysville). I am the son of teacher parents so education was pretty important in my family. I graduated with a B.S. degree in Organizational & Mass Communications from Eastern Washington University (after a lengthy battle over a typing compentency test, which I eventually won). When I got to college I asked someone who had the best parties and they told me to try the Radio & Television Department. So I got a job on the campus station and it turns out the guy was right, I got hooked on radio and the rest is the proverbial history.
I'd like to know what you are up too. Send me an e-mail about your favorite things to do, fun websites you've found, funny stories or gossip you may have heard and things that you and your friends and co-workers are talking about (I can always use the material). Thanks for listening and thanks for stopping by my page. By the way if you have any thoughts about stuff you'd like to see here, send me an e-mail. - Manley
---
Manley's History lesson...
Friday April 16, 2015
*Bat Appreciation Day: 17 (Emerge from hibernation)
*Blah! Blah! Blah! Day: 17
*Ellis Island Family History Day: 17
*Ford Mustang Day: 17
*Nothing Like A Dame Day: 17
*National Day of Silence: 17

Saturday:
*Adult Autism Day: 18
*National Columnists' Day: 18
*National Golf Day: 18
*National Lineman Appreciation Day: 18
*Pet Owners Independence Day: 18
*World Amateur Radio Day: 18
*Auctioneers Day: 18
*Husband Appreciation Day: 18
*Record Store Day: 18

Sunday:
*Bicycle Day: 19
*John Parker Day: 19
*National Garlic Day: 19
*National Hanging Out Day: 19
*Oklahoma City Bombing Commemoration Day: 19
This Week is...
Animal Control Officer Appreciation Week: 12-18
National Library Week: 12-18
National Animal Control Appreciation Week: 12-18
National Public Safety Telecommunicators (911 Operators) Week: 12-18
National Student Employment Week: 12-18
Pan American Week: 12-18
National Volunteer Week: 12-18
Week of The Young Child: 12-18
American Indian Awareness Week: 13-17
International Dark Sky Week: 13-18
Undergraduate Research Week: 13-17
Health Information Privacy and Security Week: 13-18

---
Mike's Blog De Jour
Why does Time Magazine even bother to publish a list of the 100 most influential people when they include the likes of people that no one should be influenced by? And yes, I am talking about the Kim Kardashians and the Kanye Wests being on the same list, albiet in different "categories," as actual important people like Supreme Court Justice Ruth Bader-Ginsberg, Astronaut Scott Kelly or Apple's Tim Cook and other world leaders and people who have had a significant and positive influence on our world and our lives. I would venture to guess that for someone like a Bader-Ginsberg, being on the same list as Kim Kardashian must tarnish the honor that it could have been. It's a bit sad but I remember the days when Time Magazine was influential and actually meant something.
---
Nearly Impossible Quiz:
Friday April 17, 2015
Q: This happens to about 1 out of every 6 NFL players within 12 years of retirement. What is it?
A: They file Bunkruptcy
---

and other stuff I thought you'd like to know...
Friday April 17, 2015
A guy named Ron Newt is suing the producers of "Empire" saying that's his life story, but $1 billion will make everything OK.

Michael Douglas and Catherine Zeta-Jones have officially reconciled.

ABC's "Castle" took one big step closer toward an eighth season. Nathan Fillion -- who had been rumored to be ready to move on from the series -- has signed a new deal to return.

Tori Spelling is said to be devastated after learning that her husband, Dean McDermott, reportedly had an affair with his ex-wife.

Founding Black Sabbath drummer Bill Ward says he won't be part of a band reunion unless he gets an apology from Ozzie Osbourne.

The Tennessee legislature is considering a proposal to make the Bible the state book.

Olive Garden has announced that it will provide tablet computers at every table.
---
In Case You Missed It...
Nice To Know There Are Still Human Beings Walking Around

Looking for a new hero? It's Ashley Jiron, owner of P.B. Jams restaurant in Warr Acres, Oklahoma. After realizing that somebody had been going through her recently opened eatery's dumpster in search of food she posted two signs -- one on the dumpster and one on the restaurant's front door. It read: "To the person going through our trash for their next meal, You're a human being and worth more than a meal from a dumpster. Please come in during operating hours for a classic Pb & j, fresh veggies, and a cup of water at no charge. No questions asked. - Your friend, the owner". When later interviewed, Jiron said, "It hurt me that someone had to do that." She added that she had once "struggled like a lot of single parents out there, and I've had to ask for state assistance" in the past. She says the signs will remain up "until they come in" -- which hasn't happened yet. She's also taken things a step further based on an idea from her customers: The sandwich shop's "Share the Nuts" campaign allows diners to pre-pay for a meal and stick a paper peanut on the wall that someone in need can redeem. That ought to be enough awesomeness to get you through the day. What will you do today to make the world a better place? (Newser)