---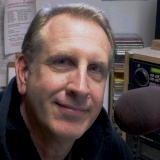 I was born & raised in Marysville, Washington (the other Marysville). I am the son of teacher parents so education was pretty important in my family. I graduated with a B.S. degree in Organizational & Mass Communications from Eastern Washington University (after a lengthy battle over a typing compentency test, which I eventually won). When I got to college I asked someone who had the best parties and they told me to try the Radio & Television Department. So I got a job on the campus station and it turns out the guy was right, I got hooked on radio and the rest is the proverbial history.
I'd like to know what you are up too. Send me an e-mail about your favorite things to do, fun websites you've found, funny stories or gossip you may have heard and things that you and your friends and co-workers are talking about (I can always use the material). Thanks for listening and thanks for stopping by my page. By the way if you have any thoughts about stuff you'd like to see here, send me an e-mail. - Manley
---
Manley's History lesson...
Tuesday January 27, 2015
*Chocolate Cake Day:27
*Holocaust Memorial Day: 27
*National Geographic Day: 27
*Thomas Crapper Day: 27
*Punch the Clock Day:27
THIS WEEK IS…
National Nurse Anesthetists Week: 25-31
World Leprosy Week: 25-31 Link
Catholic Schools Week: 25-31
Clean Out Your Inbox Week: 25-31
Meat Week: 25-2/1 (Begins on Last Sunday)
National Cowboy Poetry Gathering Week: 26-31
National Medical Group Practice Week: 26-31 (Starts 4th Monday)
---
---
Nearly Impossible Quiz:
Tuesday January 27, 2015
Q: If someone is over 40, chances are they eat this twice as often as they did when they were a kid. What is it?
A: Yogurt.
---

and other stuff I thought you'd like to know...
Tuesday January 27, 2015
Fox is eyeing a live-action "X-Men" series.

Savannah Guthrie's contract with "The Today Show" has been renewed. She's not going anywhere for at least three years.

The biggest asteroid to pass by earth for the next 12 years whipped by last night, at 35,000 mph... around 745,000 miles away.

A report says that 1.2 billion chicken wings will be eaten on Super Sunday.

Starbucks CEO Howard Schultz received a 24% boost in his pay package in 2014. (Think about that when you grab your coffee and head off to the job where you haven't had a raise in years.)

Some residents and businesses in La Jolla, CA, are suing the city of San Diego over the smell of sea-lion poop. (Maybe they should think about suing when the Chargers stink!)

Left-handed workers earn 10 to 12 percent less than right-handers do, according to a Harvard study. (I'm sure that's only in America. England is so lefty friendly they even drive on the wrong side of the road!)
---
In Case You Missed It...
Happy Valentine's Day

Did you recently get dumped? Want to get even with an ex this Valentine's Day? The San Francisco Zoo is offering the burned and spurned a chance to "adopt" a hissing cockroach or giant scorpion in honor of their special ex-someone this year. The zoo explains in a promotional page, "These invertebrates are aggressive, active, and alarmingly nocturnal. Much like your low-life ex, they are usually found in and around low-elevation valleys where they dig elaborate burrows or 'caves.' Also just like you-know-who, when a suitable victim wanders by, the scorpion grabs the doomed creature with its pinchers and stings the prey! Charming." For $50 and up, donors can adopt a scorpion and have the zoo send a certificate and stuffed stinger to the person who inspired the adoption. The cockroach valentine that the zoo says represents "the detritus of your love life" costs $25. (myway.com)