---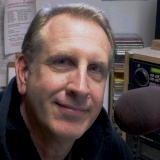 I was born & raised in Marysville, Washington (the other Marysville). I am the son of teacher parents so education was pretty important in my family. I graduated with a B.S. degree in Organizational & Mass Communications from Eastern Washington University (after a lengthy battle over a typing compentency test, which I eventually won). When I got to college I asked someone who had the best parties and they told me to try the Radio & Television Department. So I got a job on the campus station and it turns out the guy was right, I got hooked on radio and the rest is the proverbial history.
I'd like to know what you are up too. Send me an e-mail about your favorite things to do, fun websites you've found, funny stories or gossip you may have heard and things that you and your friends and co-workers are talking about (I can always use the material). Thanks for listening and thanks for stopping by my page. By the way if you have any thoughts about stuff you'd like to see here, send me an e-mail. - Manley
---
Manley's History lesson...
Tuesday October 21, 2014
National Babbling Day
Count Your Buttons Day
Celebration of The Mind Day:
Reptile Awareness Day:
This Week Is...
Food & Drug Interactions and Awareness Week: 17-24
Freedom From Bullies Week: 19-25 (3rd Full Week)
International Infection Prevention Week: 19-25
Mediation Week: 19-25 (Third Full Week)
National Character Counts Week: 19-25 (3rd Full Week)
National Chemistry Week: 19-25 (3rd Full Week)
National Collegiate Alcohol Awareness Week: 19-25
National Forest Products Week: 19-25 (Starts Third Sunday)
National Friends of Libraries Week: 19-25 (Third Full Week)
National Hospital and Health-System Pharmacy Week: 19-25
National Lead Poisoning Prevention Week: 19-25 (Always Third week)
National Massage Therapy Week: 19-25 (Last Full Week)
National Respiratory Care Week: 19-25 (last full week)
National Save For Retirement Week: 19-25 (3rd Full Week)
Red Ribbon Week: 19-25 (Last Week)
Ally Week: 20-24
Freedom of Speech Week: 20-26


---
Mike's Blog De Jour
World Series starts tonight as the Giants take on the Royals. We talked yesterday about the fact that some of these rivalries get a bit heated and the fans can get a little crazy at times. We have obviously seen some pretty bad examples of this between the Giants and Dodgers but I'm wondering... how can somebody be mad at the Kansas City Royals? What have they done to anyone in the last 30 years except lay down and get beat? The most exciting thing any Royal has ever done is when George Brett got thrown out for putting too much pine tar on his bat!
---
Nearly Impossible Quiz:
Wednesday October 22, 2014
Q: 28% of workers have committed this fashion faux pas. What is it?
A: Forgot to remove the tag from my new clothing purchase
---

and other stuff I thought you'd like to know...
Tuesday October 21, 2014
Tori Spelling was quarantined after being hospitalized over the weekend for displaying several Ebola-like symptoms. It turned out just to be bronchitis and a sinus infection.
So you want to buy a zombie-proof cabin. The folks at Tiger Log Cabins offer a kit called ZFC-1. It has three connected buildings. It comes stocked with reinforced slit windows, walls and doors; a barbed-wire surround; an escape hatch on top; and a living room with Xbox, TV and sound system. It comes with an arsenal storage unit to secure your anti-zombie weaponry. There's also a toilet system, garage, kitchen area with microwave and an upper deck with a full view all around so you can keep an eye out for the oncoming horde. Yours for $113,000.
Then there's the London family that returned from the grocery store and hiding in their bananas -- a Brazilian walking spider, the deadliest spider in the world. Police and the local animal welfare folks said they weren't equipped to deal with it. Finally a pest-control guy came and captured it. Yikes!
And there's the guy who came home to catch his roommate cheating on him with his girlfriend. So, he took pictures of them in snuggling and posted them on Facebook.
Ford has slashed the price of their Focus Electric car by $6,000 in the hopes of getting them to sell faster.
Three PGA pro golfers have teamed up to create their own beer, Golf Beer Brewing. Graeme McDowell, Keegan Bradley and Freddie Jacobson.
---
In Case You Missed It...
Count Your Buttons Day -- Here are a few sayings that should be on buttons:
Make yourself at home! Clean my kitchen.

Who are these kids and why are they calling me mom?

Don't bother me. I'm living happily ever after.

I started out with nothing and still have most of it left.

I pretend to work. They pretend to pay me.

If I throw a stick, will you leave?

Therapy is expensive, poppin' bubble wrap is cheap! You choose.

If I want to hear the pitter patter of little feet, I'll put shoes on my cat.

Does your train of thought have a caboose?

Errors have been made. Others will be blamed.

I'm not crazy, I've just been in a very bad mood for 30 years.

Better living through denial.

Whatever kind of look you were going for, you missed.

How do I set an iPhone to stun?

I'm not tense, just terribly, terribly alert.
Today's Lite Rock All Nite
12:00am - 5:30am
Today's Lite Rock All Nite
Make A Request