---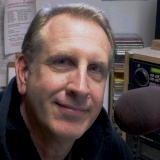 I was born & raised in Marysville, Washington (the other Marysville). I am the son of teacher parents so education was pretty important in my family. I graduated with a B.S. degree in Organizational & Mass Communications from Eastern Washington University (after a lengthy battle over a typing compentency test, which I eventually won). When I got to college I asked someone who had the best parties and they told me to try the Radio & Television Department. So I got a job on the campus station and it turns out the guy was right, I got hooked on radio and the rest is the proverbial history.
I'd like to know what you are up too. Send me an e-mail about your favorite things to do, fun websites you've found, funny stories or gossip you may have heard and things that you and your friends and co-workers are talking about (I can always use the material). Thanks for listening and thanks for stopping by my page. By the way if you have any thoughts about stuff you'd like to see here, send me an e-mail. - Manley
---
Manley's History lesson...
Thursday September 3, 2015
On this date in 1935, an automobile went over 300 miles per hour for the very first time. I'm sure going off that cliff had a lot to do with it.
In 1940, high-definition color TV was seen for the very first time. And the man cave was born. Makes you wonder what took it 60 years to reach us? It was probably all those low def black & white TV shows.
THIS WEEK IS…
*National Payroll Week: 1-5
*International Enthusiasm Week: 1-7
*National Nutrition Week: 1-7
*Self-University Week: 1-7
---
Mike's Blog Du Jour
Today is National Bowling League Day and Welsh Rarebit Day. If you didn't know, rarebit is a Welsh word for rabbit. And much like turtle soup contains no turtle, Welsh Rarebit has no rabbit. it's actually toast with melted cheese poured over it. It's basically a fancy term for an open face toasted cheese sandwhich!
---
Nearly Impossible Quiz:
Thursday September 3, 2015
Q: Americans spent over $8 billion on this in August of 2014. What is it?
A: Back-to-school clothes
---

and other stuff I thought you'd like to know...
Thursday September 3, 2015:
That was just an internet rumor that James Earl Jones had died. He's 84 and still going strong.

Janet Jackson launched her "Unbreakable" World Tour last Sunday in Vancouver, B.C... with concerts running through March of next year.

A 68-year-old slice of Queen Elizabeth's wedding cake went up for auction yesterday. We didn't hear a final, but it was expected to go for around $750.

Sarah Michelle Gellar and Freddy Prinze Jr. celebrated their 13th wedding anniversary this week.

So Kermit the Frog has supposedly moved on to another pig... Denise. No, really, she's a pig.

A new report says that over half of the immigrants in our country are on welfare.

The night of September 27-28 will bring a "blood moon." To skywatchers, it simply refers to the copper color the moon takes on during an eclipse, but to some Christian ministers, the fourth and final eclipse in a tetrad -- four consecutive total lunar eclipses, each separated by six lunar months -- fulfills biblical prophecy of the apocalypse.

According to a new poll, Hillary Clinton has lost a third of her supporters in Iowa since May.

Clothing chain Forever 21 is looking to borrow $150 Million to stay in business. That would explain their new name, "Maybe only for a while 21."
---
In Case You Missed It...
TEN WAYS TO SURVIVE A HORROR MOVIE
Don't ever investigate or say you'll "be right back"

Turn around, because it's always behind you

Never watch a horror movie when you're in one

Make sure your car is always in perfect working order

Don't ever split up

When haunted, just move out of the damn house

Wear comfortable shoes

Avoid proms and all other high school parties

Always assume your attacker is still alive

And for goodness sake, keep your pants on
Today's Lite Rock All Nite
12:00am - 5:30am
Today's Lite Rock All Nite
Make A Request