---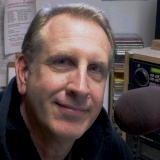 I was born & raised in Marysville, Washington (the other Marysville). I am the son of teacher parents so education was pretty important in my family. I graduated with a B.S. degree in Organizational & Mass Communications from Eastern Washington University (after a lengthy battle over a typing compentency test, which I eventually won). When I got to college I asked someone who had the best parties and they told me to try the Radio & Television Department. So I got a job on the campus station and it turns out the guy was right, I got hooked on radio and the rest is the proverbial history.
I'd like to know what you are up too. Send me an e-mail about your favorite things to do, fun websites you've found, funny stories or gossip you may have heard and things that you and your friends and co-workers are talking about (I can always use the material). Thanks for listening and thanks for stopping by my page. By the way if you have any thoughts about stuff you'd like to see here, send me an e-mail. - Manley
---
Manley's History lesson...
Monday June 27, 2016:
*Decide To Be Married Day: 27
* "Happy Birthday To You" Day: 27
*Industrial Workers of The World Day: 27
*National HIV Testing Day: 27
*National Sunglasses Day: 27
*PTSD Awareness Day: 27
Please Take My Children To Work Day: 27
On this date in 1652, America's first traffic law went into effect prohibiting riding horses "at the gallop" in the New Amsterdam settlement.
It was on this date in 1847 that New York and Boston were linked by telegraph wires. The very first message, of course, was "Yankees suck."
On this date in 1955, Illinois became the first state to require seat belts. Actually, in the first bill, it was seat belts and garters. Times were different.
THIS WEEK IS…

*Fish Are Friends, Not Food! Week: 26-7/2
*National Mosquito Control Awareness Week: 26-7/2
*National Prevention of Eye Injuries Awareness: 27 -7/4
---
Mike's Blog Du Jour
Today is "Decide to be Married Day" as if that decision just comes to a person all of a sudden. Plus this puts a lot of pressure on people who have not yet decided if they want to be married. They only have one day to make this important decision and iof they don't they have to wait until next year. And what about those of us who really have a choice in the matter, perhaps there should be a "Decide to Marry Somebody Who Might Want to Get Married, But Doesn't Have a Lot of Options Day!"
---
Nearly Impossible Quiz:
Monday June 27, 2016
Q: People who use these, use them on average, every 3.8 days. What are they?
A: ATM Machines
---

and other stuff I thought you'd like to know...
For June 27, 2016:
Special performance of the smash broadway hit show Hamilton will serve as a fundraiser for Hillary Clinton. Tickets will start at $2,700 and go up to $100,000!
Nic and Norman's restaurant opens up tomorrow in Senoia, Georgia. It's co-owned by "Walking Dead" star Norman Reedus and "Dead" director Greg Nicotero. They're already lined up outside in lawn chairs, waiting to get in.
Other stuff
In Spokane, a 3-foot alligator has been reported missing... by neighbors, who also point out the owner is missing, too.
The University of Alabama's president makes $535,000 a year -- or just $10,000 more than the strength coach for the Tide football team.
---
In Case You Missed It...
DID YOU KNOW?... some random facts about people
According to scientists, Daylight Savings Time, or turning the clock back, is is a waste of time and bad for your health.
A 17-foot 5-inch alligator was found in 1989 just outside Gainesville, FL, making it the largest on record.
When Disneyland opened on July 17, 1955 the temperature was 110 degrees, hot enough to melt the asphalt on Main Street and caused many high-heeled shoes to become stuck in the pavement.
TEXT CLUB CONTESTS, EVENTS